Windows 10 is just what the business world needs by David Hutton
1st September 2015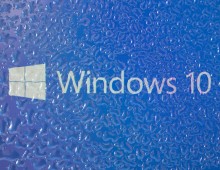 As the roll-out of the new Windows 10 operating system continues, experts agree that it's rapidly becoming a must-have for the business world. Among the many benefits of adopting Windows 10 is the fact that it operates perfectly with mouse, keyboard and touch-screen applications.
Built to succeed
After the relatively underwhelming experience given to computer users by Windows 8, Microsoft were determined to make sure they got things right this time. That's why Windows 10 (there isn't a commercially available Windows 9) was tested on four million users before being made commercially available.
The best of everything
This in-depth research on a huge scale helped Microsoft to incorporate the best features of previous versions as well as introduce some ground-breaking new ones. And with their 'one product family, one platform, one store' approach, the company are determined to ensure every user has a chance to join the revolution.
A virtual assistant who knows almost everything
Perhaps the most intriguing aspect of life with Windows 10 is Cortana, a virtual personal assistant who can tell you everything from the local weather, your upcoming appointments, traffic delays and flight information. Named after a character in the Halo video games, she may rapidly become an irreplaceable part of everyday life in the business world.
'Start' on the right foot
Microsoft have listened to the opinions of their users and introduced a Start button that has the simplicity and ease of use as earlier Windows systems, but it also incorporates the popular 'tile' applications of Windows 8. With Windows 10, tiles can be resized, moved around and grouped together according to the user's wishes.
More shortcuts, less hassle
The underlying emphasis with Windows 10 is undoubtedly, convenience. Making the system more user-friendly has been something of a crusade for Microsoft in recent years, and that's why starting the system, closing it down, accessing files and changing personal settings have all become simpler.
Better for business
There are many business users who are about to switch to the new Windows 10 system, and those that do so will find themselves perhaps a little confused at first. This is only natural, of course, but over a short period of time they will soon become accustomed to its ways. The benefits will include faster access to files, speedier web surfing, more convenient usage and greater overall organisation.