6 Benefits of an IT Support Company by David Hutton
15th September 2015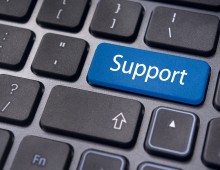 The business world is an increasingly competitive one these days, so the need to provide the best results at the most optimum cost is a must. More and more organisations are using an external small business IT Support Company now, and there are a number of benefits to be gained by adopting this strategy.
1. Affordable
By engaging the services of a specialist small business IT support company, an organisation can make a dramatic reduction in spending in no time. Maintaining an in-house IT Department is a costly process, but many organisations find they simply don't need one.
2. Reliable
External support can be just as efficient and just as responsive as an internal department, giving you the attention you need whenever the occasion demands. Simmway IT provide a full range of services, including PC and Mac support, email and internet setups, wireless networking, virus protection and so much more.
3. Adaptable
Maintaining a future-proof service is vital, because as your business expands the IT support needs to expand with it. If you work with Simmway IT, you can grow without having to worry about recruiting and training new team members. You will also find it easier to calculate your ROI as you grow.
4. Effective
Once you engage the services of a high quality small business IT support specialist, you can then focus on the key areas of your business. Staying one step ahead of your rivals is never an easy path, of course, but if you know your IT needs are in the hands of experts you'll find it easier to concentrate on other matters.
5. Flexible
Small business IT support from Simmway IT can be arranged via a fully contracted service or via an hourly rate, giving you a couple of choices to suit your requirements. Different options will suit different companies, of course, so it's reassuring to know there's a payment plan that will suit you perfectly.
6. Peace of mind
In the modern commercial world, it's almost impossible to put a price on peace of mind, but it's a commodity that we all need sometimes. Thanks to small business IT support, your employees will be able to utilise efficient appliances incorporating the latest technologies, enabling them to do the job to the best of their abilities.