Be Ready for the Windows Server 2003 Shutdown by David Hutton
24th October 2014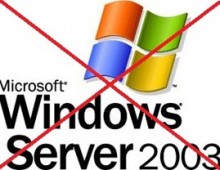 While the majority of workplace computer networks are based around modern operating systems, there are still many others which are somewhat long in the tooth. For those who are still using Microsoft's Windows 2003 – an estimated one million around the globe – the countdown clock has started to tick. To put it in simple terms, immediate action is required.
Official support from Microsoft is due to end in July 2015, so users will find it difficult or even impossible to continue to run the system efficiently after that date. The release of repair patches and upgrades will have kept systems running on a relatively even keel over the past ten years or so, but this will not be the case in the future.
Many commercial organisations have come to rely on their processes more and more over the last decade, and as such the prospect of switching to a more modern platform may be somewhat intimidating. Thankfully, expert assistance is at hand, enabling a smooth transition that will lead to a minimum of disruption to the everyday running of the business.
Act now for the easiest transition
It should be pointed out to all current users of Windows Server 2003 that migration to another server, and the subsequent upgrade of services, shouldn't be left to the last minute. Evidence suggests that many firms will leave it late and then face problems that could have been avoided if they had started the process at an earlier date.
It's fair to assume that the majority of Windows 2003 users in the commercial sector will be small businesses with relatively uncomplicated networks. There is every chance that most of these will have been unlikely to install regular upgrades and fix patches, and will therefore be running systems at rather slow speeds.
Those organisations that then decide to switch to the most modern operating platforms will be mightily impressed by the speed, the convenience and the many added features that have come along in the intervening years. The decision to withdraw support for Windows Server 2003 may serve to be a blessing in disguise for many, if only because it encouraged them to upgrade.